Fishtrap Joseph
Bridging the ancient art of storytelling with 21st century technology
In 2014, Fishtrap and Jos
eph Charter School launched an exciting new program that offers students instruction in creative writing and the modern tools to share their stories. Through this partnership Fishtrap has developed a story lab at Joseph School, filling it with iPads, audio recording equipment, cameras, and art supplies to give kids the opportunity to express themselves through multi-media and digital storytelling.
In the coming years, this Oregon Community Foundation funded program will expand to include a second story lab at the Fishtrap House in Enterprise, OR and provide creative writing opportunities for students throughout Wallowa County.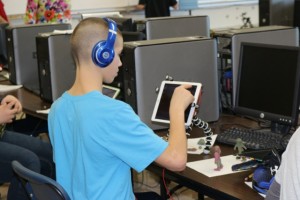 Comments from some of  our students:
To me, digital storytelling is more about your background, what feels good to share with others.
-Ashlie McAfee
This class was more enjoyable by far than others. I thought it would be too hard but I buckled down and put my mind to it.
Advice:
Be creative and have no limits!
-Steven Beckmann
I really liked the humor other students used in their work.
-Renee Seal
What is digital storytelling about? Telling a good, funny, serious, etc. story in a differen
t way.
-TJ Grote
A word or words that sum up my experience with digital storytelling: clutch, dope, fresh, fly, swaggy. I really liked the ideas, time, and effort other students put into their work.
-Tyler Holman
Digital storytelling is all about telling a story with pictures, video, and narrative.
-Kade Kilgore
I like how people compare their projects and share them with each other. Advice: Make sure you have a narrative first because it is hard to put a narrative to a whole bunch of pictures without one.
-Haley Miller
Digital storytelling is a chance to express yourself and your creativity. -Emma Hite